Good afternoon little and large friends. I hope you're all happy to have me back! I've certainly missed everyone! If you missed it catch up on why I've been away, have a browse here. I'm off work and loving life. Look how happy no make up Sophie is >>>> I KNOW!
I've got loads and loads and a bucket more load of stuff to share but this ain't the place nor the time cowboy. (I've become a bit cowboy-gangsteresque during my time off.)
Lets take a look at some news stories shall we?
For any Scrubs fans, this is just awesome. Man I miss Scrubs. Everyone knows that Zach Braff and Donald Faison are BFF's since that beautiful bromance blossomed for millions to see. It seems that recently, at a screening of Zach's new film, Wish I Was Here, he brought along his best bud and they treated the audience to a tricking perfect rendition of our favourite man-love tune. You're welcome.
THESE ARE AMAZING! AND WHAT BRILLIANT PROGRAMMES TO REMEMBER! Here's some of my faves! All of them are amazing though so definitely check them out! All by the very talented Isaiah Stephens, who you should spend all your afternoon looking at her work. It's all cartoon themed illustrations, and if you're between the ages of 20 and 30, chances are you'll blinking love it!
Recess. Spinelli looks AMAZING!
Rocket Power! I totally forgot about this show until I saw this! YEAH ROCKET POWER!
Dexters Lab. This is the best. For sure.
Two of the Coolest Dads in The World. Via Buzzfeed.com
The first being Brian Reda, a photographer and stay at home dad to his cutie pie son Livingston. He documents their time together in a series 'Dad life is metal.' Check out all of his reddit posts here.
The second awesome dad of the week has to be Nathan Shields, who makes incredible pancakes for his children! Man I wish I had someone to make me fancy shaped pancakes. Winner. check out his super duper blog here!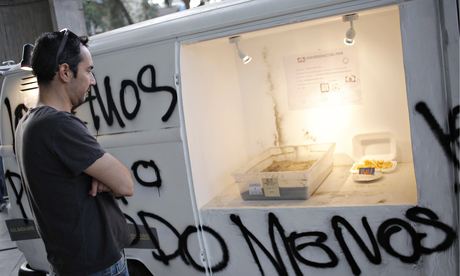 31 year old visual artist 'Fried Potatoes' claimed that he was researching for an art project, sneaked into a vault in a privately run, run-for-profit university and snatched the £297million worth tuition contracts. The university in question was closed last year, scamming many students from finishing their degrees and leaving them with the crippling debts that followed them
despite this. Interestingly, the university was rumoured to have been closed down due to money laundering claims. The documents were then burnt, the asked being transported around Chile in a specially adapted van, so as the public can see the evidence of these binding contracts/ art being destroyed. It doesn't necessarily mean that the debts have been wiped, however it makes it pretty damn hard to retrieve them.